Giveaway at CultureMami.com
December 06 2011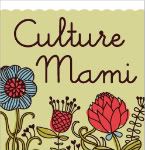 There are so many great blogs out there about parenting, babies, children, culture and just life, and one of my favorites -- because it has a little bit of all of these categories -- is
Culture Mami
. Marcela, a Latina who was born in El Salvador, is a working mom who is doing a fabulous job of sharing all the richness of Latino culture with her children.
I love reading her blog because in it, you get how culture isn't so overt most of the time. It's subtly embedded into everything you do. It's the little things -- going out for an horchata or wearing a floral embroidered dress. I enjoyed following her marathon training last year, and recently, she rescued the most beautiful German Shepherd perrito (or not so -ito) named Max. He's now her new running partner.
CultureMami.com is giving away two Dos Borreguitas shirts this week. All you have to go is go to her site and
leave a comment on the post
about the giveaway. A winner will be chosen Dec. 12, 11:59 p.m. It's a chance to get free Christmas gifts!
So let your comadres know about this great blog and giveaway.